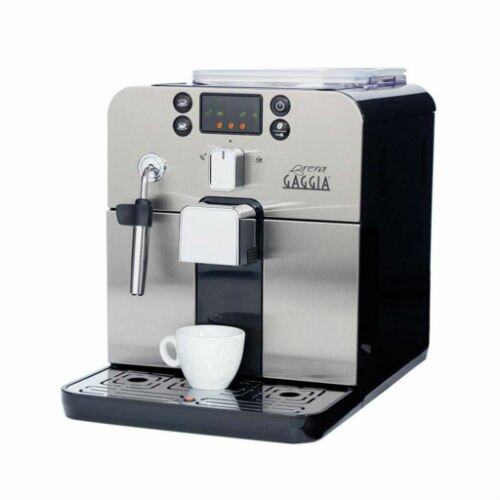 It doesn`t matter if you are a new coffee lover or you are a veteran. When you try to learn more about coffee machines, surely you are going to circle around Gaggia Classic. Unofficially, people in the coffee business are calling it the first perfect home espresso machine. The first Gaggia espresso machine was invented back in 1938 by Achille Gaggia. This coffee machine is now a property of Gaggia company, which is a part of giant multinational company Philips.
You see that it has a long tradition in the coffee business. Firstly, the company only produced machines for local bars. Furthermore, they started making home-use espresso machine and other appliances you can find in any kitchen in the world. As we said, it is considered to be the first modern espresso machine. However, people are using it even today. We are going to shine a light on its features and quality.
Gaggia Classic
Nowadays, Gaggia classic is pretty common in people`s homes. This is not your ordinary espresso machine, so you just can press a button and coffee makes itself. For you to use this one, you need to have a set of barista skills. The other possibility is that you want to improve your skills. If you look for the best possible balance between price and quality, this is probably the best choice you can make.
You can find new Gaggia classic for about $200. If you want to pick a used one, you can find it for around $100. For this investment, you will get a high-quality espresso right before you in a matter of minutes. This machine measures in 14.2x8x9.5. So, you can see that is compact, and you can fit it almost anywhere. When it comes to machine type, Gaggia classic is a semi-automatic. That means you only need to grind coffee beans. The machine will do the rest of the job.
Pros and Cons
Like any product, this device has good and bad sides. Now we are going to present them to you.
Pros
This machine has a large water tank.
You will have an espresso made in a matter of seconds.
Several portafilters.
Its design is pretty good.
Great steam power.
Easy to use.
Made of stainless steel.
Cons
You need to turn it off manually every time.
It`s not user-friendly.
It`s too big for smaller countertops.
Some are considering it inflexible.
Panarello wand. However, it is replaceable.
Conclusion
Definitely, this is one of the best espresso machines you can find on the market. We are not recommending it to new users, because it is rather complicated for them.
However, an experienced barista shouldn`t have any problem using it. Any espresso lover would love to have one of these in his house. The only real negative thing about this product is its Panarello wand. It isn`t very good. Thankfully, you can replace it when you have the need. So, what are you waiting for? Go and get one for yourself.